About Us
Village Radio 1XT is on 1368AM and broadcasts from the Historic Village, 17th Avenue West, Tauranga, New Zealand. We play the nostalgic music of the 40s to 90s. Village Radio was opened and the first broadcast took place on 13th April 1984 from the first floor of the historic Town Board building. It also coincided with the commemorations of the 21st Anniversary of the City of Tauranga. We also have a small Museum of old broadcasting and radio equipment dating back many years.
The equipment was originally from Radio 1ZD, Tauranga, where it became surplus when they moved to a new location. The transmitter, loaned to the station from Radio New Zealand was the original 1ZB transmitter when it broadcasted from Waterview in Auckland. On the 5th January 2013 the 75 year old Collins Transmitter went on air without a hitch. The transmitter is only the second known to be operating in the world and was restored by our technicians at Village Radio, Russ Bain, George Stewart and Neil Walsh. It has been out of action for over 13 years but has been painstakingly restored by the technicians and a grant from the Lotteries Commission. Village Radio will continue to rely on it's more modern 1960's Toshiba value transmitter, leaving the Collins as a back-up and for special occasions.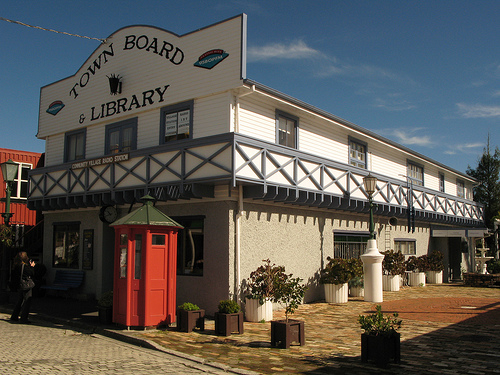 Village Radio only broadcast on Sundays and public holidays, then in 2004, weekday broadcasts began. A new announcer-operated studio was established to save wear and tear on the older equipment some are more than 60 years old.
The announcers, technicians and support staff at Village Radio are all volunteers. They are not only New Zealanders and Maori but from all parts of the world. The technical members maintain the equipment and operate the turntables and mixing panel whilst the announcers compile and present their own programmes based on the easy listening format of the 20's to the 90's, from recordings stored at Village Radio.
Each announcer compiles their own unique programme. We do not operate a rotating pre-recorded programme as in other stations. On average, the Volunteers spend 10 hours per week giving their time to enrich the lives of listeners, many of whom are house-bound.
The record library is extensive, with some 125,000 tracks of music, 50,000 titles and over 10,000 artists. The tracks are made up of LP's, 45's, 78's and CD's.
We are an incorporated society. Our official name is Tauranga Village Radio Museum Incorporated and we are always on the lookout for new volunteers to help with announcing, panel work, technical support and the general running of the station.
Village Radio is a non-commercial, community based Station and it's income is derived from donations and sponsored time. Listeners may support the station by making a donation of their choice, picking out 10 tunes which are then broadcast and they become a Friend of Village Radio.
At 11:00 am every weekday we have a Community Notice board where we promote local community groups free of charge. We also broadcast traffic, road closures and weather reports. On occasion we interview local people of interest to the Community and icons of New Zealand Music. Recently we have introduced specialty hours of Jazz, Classical, New Zealand Music, Country, Comedy and Rock n' Roll.