Volunteer Profile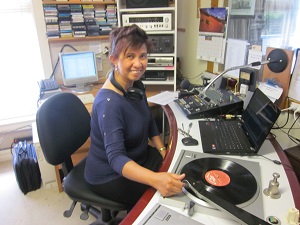 Maria Burns
Announcer/Panel Op
Call me Maria, a music lover originally from the Philippines. I've been here in New Zealand for the past 17 years and loving it.
I am currently involved with the Tauranga Multicultural Group and the Tauranga Filipino Society.

Part of my involvement with the Multicultural Group was to give regular natural health seminars to it's members at their office in the Historic Village.
One time, I noticed that there was a radio station nearby, I became curious and wished I could be on the radio playing lovely music for the people.
I saw a sign on the station door saying, 'volunteers welcome', I decided to apply as a volunteer and guess what, I met Neil Walsh (Technician), a friend of ours at the station.

My interest became a reality when Bonnie, Station Manager asked me to join Peter Shaw, one of the best Announcers in town for Radio Training.
Please join me for lovely music, Saturday afternoons, between 1pm - 5pm - Memorable Music with Maria Burns