Volunteer Profile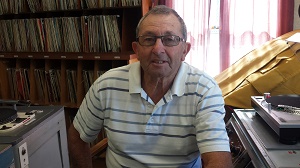 Ken Wadsworth
Announcer/Panel Operator
I am 77 years old and retired. I have a musical background as I had a Rock and Roll dance band in the Waikato by the name of the Satellities. I formed the group with my sister and a couple of mates in 1957.
We were professional musicians from 1960 to 1963 playing at the Starlight Ballroom in Hamilton. I was the saxophonist. We made several recordings the most notable "Wild One', a cover version of Bobby Rydell's No. 1 hit. In 1967 we toured New Zealand for 7 weeks with Millie Small and Maria Dallas.
I shifted from Te Aroha to Tauranga with my family in 1978 and started a food distribution business. I retired in 2007.
My other interests are, gardening, watching sport. My wife Julianne and I have been married for 49 years and have 4 children, 9 grandchildren and enjoy motor-homing, especially in the South Island where our 2 sons live.
I thoroughly enjoy my new pastime with Village Radio.