Volunteer Profile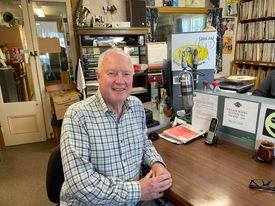 Evan Turbott
Announcer/Operator
I have enjoyed lots of decades in one of the professions without neglecting my other interests. Happy with life, I love the outdoors with bush walking, gentle kayaking and exploring the riverbanks for trout.
I've done a great deal of volunteering over the years which has been recognised with a Paul
Harris Fellowship at Rotary. Married to Rosemary and a father. Daughter Grace is in Sydney with her degree and doing very well.
Music is a big part of my life. I've had guitars and sung since I was a teenager and I formed a covers band called the Sunday Drivers that rocked them at the Omokoroa Boat Club in the 1990s. Subsequently I did 5 years classical baritone training with Bob Addison.
I joined Village Radio as an announcer in July 2020 and I'm thoroughly enjoying it and the family
atmosphere at the station.