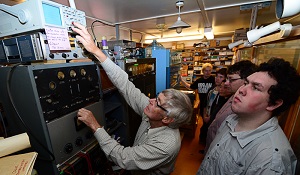 New Volunteers: Volunteers are welcomed at Village Radio.
We are always on the look out for suitable Announcers and Technicians.
If you would like to become a Technician, assisting announcers by playing the records for their programmes, full training will be provided by our experienced staff.
Announcers need to have a good knowledge of music and a pleasant speaking voice. Auditions would be arranged to ensure the continuing standard of our broadcasts. Announcers are able to prepare a programme from our record library at Village Radio or use a playlist on their laptop.
Email us on info@villageradio.co.nz or phone the station Ph 571 3710 and leave a message for the Station Manager