Visitors to Our Studios
OUR JAMES WOOD N.Z. MEETS JAMES WOOD U.K.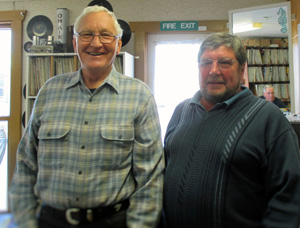 PROFESSOR ALAN WILLIAMSON, RETIRED, VISITED VILLAGE RADIO TO VIEW THE 1935 COLLINS TRANSMITTER
STUDENTS FROM POLYTECH LEARN ABOUT RADIO AS IT USED TO BE.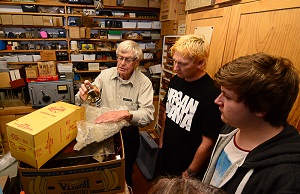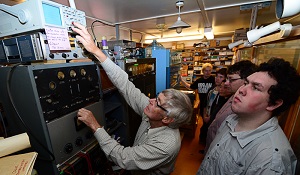 Mary Feeney (Armiger) is interviewed by David Wall in our Studio
Mary in front of some of our vintage radios at our studios in Tauranga
Mary Feeney was a well known singer from about 1950 to 1960 and recorded many songs such as In A Golden Coach, Hi Lili Hi Lo and The Song from Moulin Rouge, at the Astor Studios in Auckland mainly on the TANZA label. At one time she sang with the Benny Levin Band and toured NZ singing at various clubs and other venues. One of her accompanists was the late Nancy Harrie as well as Crombie Murdoch and his group. In 1953 she sang 'In A Golden Coach' in front of Queen Elizabeth during her visit to Hamilton on the Queen's Royal Tour. She was married to trumpeter Terry Armiger and had three daughters, she now lives in Pyes Pa Tauranga.
Hoin originally from South Korea visits us on ANZAC Day
Hoin is from South Korea but has been living in Tauranga since 10th April.. While looking around the Historic Village he visited our studio. He was very impressed by our collection of vinyl records and vintage radio equipment.
Hoin trying out as an announcer.
Visitors from Rotorua
Maliska Oosthuizen and son Arend aged 12 visited Village Radio Studios recently while on a visit from Rotorua.
They emigrated from South Africa some 6 years ago after living in Zimbabwe, Botswana and other places. Maliska spoke to David Wall and stated that it had been a good move to come to New Zealand where it is a lot more peaceful.
The family of four including Dad and little sister intend to return to Tauranga Historic Village for a visit at some time in the future as they found it "most interesting".
Maliska and Arend
Visitors from Holland
Jaap and Mary Engel visited our studios from Zwagg, Holland and showed great interest in the everyday running of the station. They are here in Tauranga visiting relatives and glad to be in New Zealand away from the Netherlands winter.
(We apologies for the poor quality of the photo - it was taken on a cell phone)
Special Visitor From England
"I first visited Village Radio in 2010 when we came for the wedding of our daughter Vanessa. This year Pat and I returned to meet our lovely new grandson Angus now 8 weeks old, the family live in Brookfield, and very much enjoy life in their newly adopted Country. My interest in radio goes back to the late 1940s when my father ran a small Radio shop in Dorking. Most of my professional life was spent in the IT industry. On retirement I was able to devote more time to my hobby as a member of the1700 strong British Vintage Wireless Society. I collect Radios TVs and Tape Recorders not to mention records and books! I lecture and demonstrate the work of John Logie Baird the Scottish television pioneer, and give talks on the history of sound recording. I greatly enjoyed meeting Bonnie, Cherry and Ian and being interviewed by David. It is so obvious to me that Village Radio is an important part of New Zealand's heritage and deserves a greater audience through live streaming on the internet, not to mention FM!" Jon Weller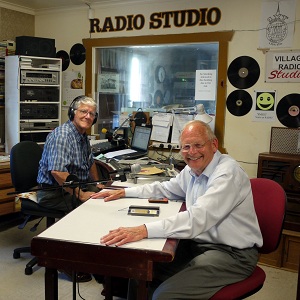 Picture 1 (Top left) Angus our youngest listener
Picture 2 (Top right) Jon Weller being interviewed by David Wall